Superfood powder supplier
Green & healthy superfood powder only for US & Canada professional market
Discover POW(D)ER, a new range of more than 31 references, impulsed by Nexira.
Superfoods come from the earth and plantations, but they can also be found in the seabed. POW(D)ER from Mother Nature provides superfood powders with extraordinary nutritional values made from fruits, juices, seeds, leaves, or roots!
They are both rich in antioxidants, amino acids, minerals, vitamins, and fatty acids. Highly consumed for hundreds of years by the populations of North and South America, they appeared a few years ago in Europe. Coupled with a balanced diet and a healthy lifestyle, they can support our immune system and act favorably on our skin, our hair, or our mental health for example. They are used for everything!
Consumers are often more familiar with superfruits especially berries which are very energizing. blueberries that contain vitamin C, fiber, and polyphenols (antioxidants) or acai which is rich in fiber, antioxidants, proteins, carbohydrates and fatty acids or goji berry, rich in fiber and vitamin C. Less known but just as rich in minerals, we found camu-camu, a tree whose fruit is very rich in vitamin C and antioxidants or mangosteen which is rich in fiber.
Superfruits have very broad benefits and act positively on health and wellbeing. Consumed fresh in a very simple way, they are also often introduced into our diet in powdered format. Consuming a superfood powder provide unique benefits that make them a convenient and valuable option.
A superfood powder is made by carefully drying and processing nutrient-dense foods. This process helps to preserve the nutritional content of the ingredients. In some cases, the powder may even contain higher concentrations of certain nutrients compared to fresh produce. By consuming superfood powders, you can obtain a concentrated dose of essential vitamins, minerals, antioxidants, and phytonutrients. Where to buy superfood powders? Superfood powders can be purchased from various sources, from health food stores to online retailers or brand websites.
A superfood powder offers unparalleled convenience and accessibility when fresh options may not be readily available or practical. It is shelf-stable and can be easily stored for longer periods. Superfood powders can be readily incorporated into various recipes and food preparations, including smoothies, baked goods, sauces, and beverages. This versatility makes it easier to incorporate superfoods into our daily diet and maintain a balanced and nutritious eating routine.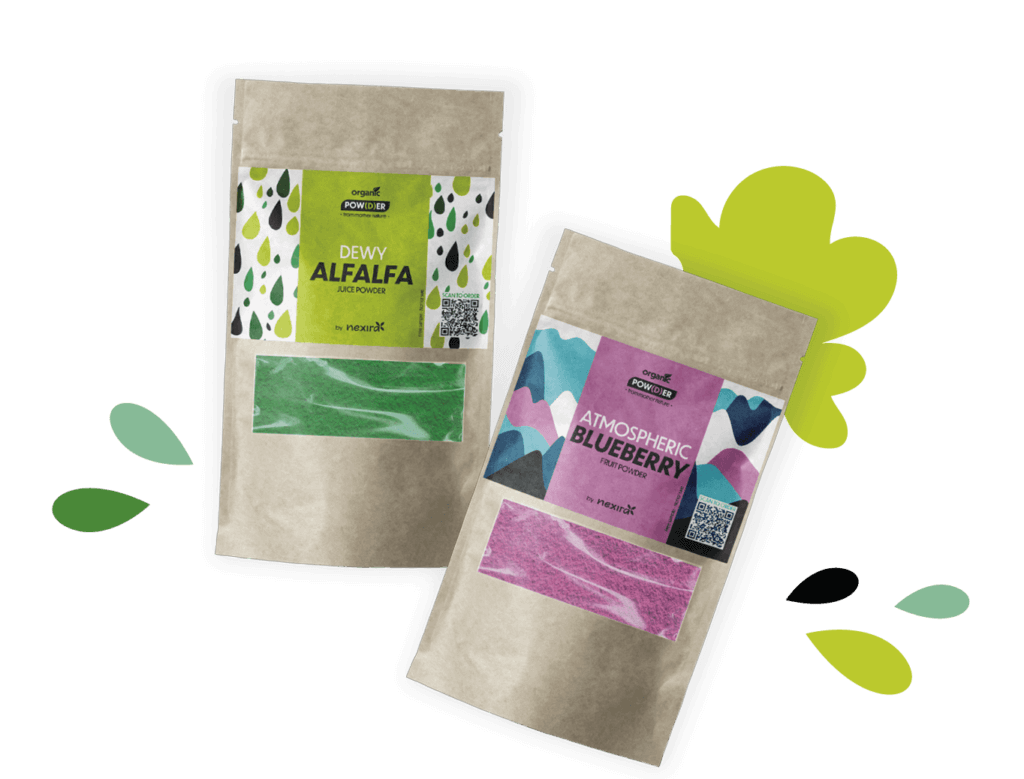 Looking for high-quality superfood powders for your food business ?
Revolutionize Your B2B Nutritional Business with a Top Superfood Powder Supplier
In the ever-evolving landscape of the B2B nutritional industry, staying ahead of the competition and meeting the demands of health-conscious consumers is paramount. One key aspect is finding a reliable and innovative superfood powder supplier. Superfood powders have gained significant popularity due to their nutrient-rich profiles and convenience. Explore the importance of partnering with a top-notch superfood powder supplier to take your B2B nutritional business to new heights
Why choosing POW(D)ER From Mother Nature?
POW(D)ER from Mother Nature is an innovative range of naturally supercharged, easy-to-formulate ingredients launched by Nexira. The POW(D)ER range is a culmination of discovering the unique natural qualities of each superfood, and the link between the power of nature with the strength of the product itself. Nexira puts nature into powder form, making it simple to infuse into applications and sharing their expertise with their customers.
As pioneer in natural ingredients since 1895, Nexira offers a comprehensive powder portfoloio to catering to diverse customer preferences and needs. Globally sourced from the banks of the Amazon River to Southeast Asia to the West Indies, our plant-based powders are naturally derived from fruits, juices, leaves, seeds, and roots. 
Our extensive portfolio of superfood powders allows our customers to create clean-labeled products that have gone from a trend to a "must-have" among health-conscious consumers. Diverse options also make unlimited possibilities for tailored mixes and blends: super alkalizing green blends, antioxidant-rich berries blend, energizing blend, or detoxifying blend. This variety enables you to curate a comprehensive product lineup that appeals to a broader customer base.
Our experts travel the world sourcing key ingredients of natural origin and organic farms, guaranteeing pure and potent superfoods that resonate with health-conscious consumers. Partnering with a reputable superfood powder supplier such as Nexira ensures that you can offer your customers exceptional superfood powders that meet the highest standards.
In the era of evidence-based nutrition, customers are increasingly seeking products with scientific credibility. Our superfood powders provide nutritional claims based on traditional usages. The POW(D)ER team also worked closely with a r&d formulator to develop formulas based on sensory experiences and "on trend" applications.
A ready-to-use concept for all customers
for customers looking for superfood ingredients. Free samples are available on POW(D)ER e-shop.
For mix powders and attractive foods & beverages
These functional sensorial ingredients will infuse products such as nutritional bars, smoothie bowls, yogurts, granolas, juices, smoothies, frozen desserts, and other functional beverages.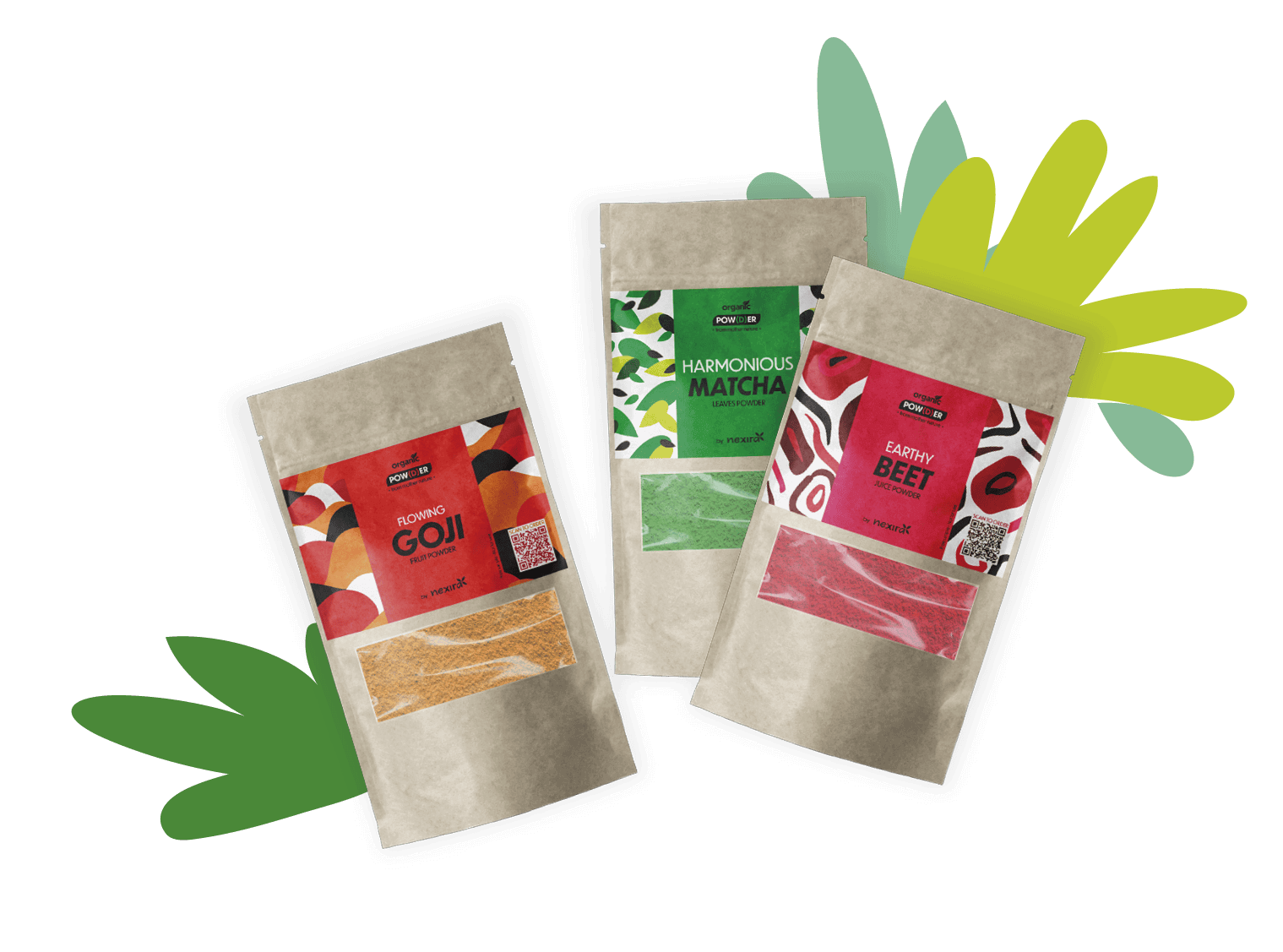 A delightful range of vibrant colors, textures & flavors
Sweet, tart, spicy, earthy, fruity, nutty, and tropical tastes for virtually unlimited formulations
full of vitamin, minerals, antioxidants, fibers, and proteins.
Order Samples for Testing
Looking for high-quality superfood powders for your food business? Explore the one-stop shop for all your superfood powders! With competitive prices, also for larger quantities, and a wide range of powders suitable for a wide range of applications, we make it easy to order sample online for testing.
Plus, with our short delivery times and commitment to stocking locally, you can rest assured with the regularly expanded POW(D)ER From Mother Nature portfolio. Recently added: 
In the competitive landscape of the B2B nutritional industry, partnering with a top superfood powder supplier is a game-changer. By collaborating with Nexira that provides unparalleled quality, a comprehensive product portfolio, transparency, and a reliable supply chain, you will embark on a journey of innovation, quality, and success while cater to the needs of health-conscious consumers.
Sign up for a free account and stay up to date with new powder launches, trends or …