In the world of food and beverage product development, the quest for innovative and nutritious ingredients is never-ending. As R&D professionals, purchasers, and marketing experts, you're constantly seeking ingredients that can add value to your products and cater to the evolving preferences of consumers.
Fruit powders are widely used in the food and beverage industry for their ability to improve fruit flavor and color, extend product shelf life, and enhance nutritional content. They are popular in a variety of products, from fruit-flavored drinks and snacks to bakery items and dietary supplements.
POW(D)ER From Mother Nature is an innovative range of more than 30 naturally supercharged, easy-to-formulate powders derived from various parts, including fruits. The POW(D)ER range is a culmination of discovering the unique natural qualities of each superfood, and the link between the power of nature with the strength of the product itself. Nexira puts nature into powder form, making it simple to infuse into applications and sharing their expertise with their customers.
Let's explore the numerous advantages of incorporating our fruit powders into your creations.
Exceptional Nutritional Value
Nexira offers 16 different fruit powders from different regions of the world. One of the primary reasons to consider our fruit powder range is the exceptional nutritional value it brings to your products. Fruits are nature's powerhouse of vitamins, minerals, and antioxidants. By using our fruit powders, you can infuse your products with these essential nutrients, making them not only delicious but also highly nutritious. Our nutrient-dense ingredients are designed for all your mix powders and food and beverage formulations. These functional sensorial ingredients will infuse products such as nutritional bars, smoothie bowls, yogurts, granolas, juices, smoothies, frozen desserts, and other functional beverages with robust flavors and colors, enhancing their desirability factor.
From proteins or fiber rich powders such as Timeless QUINOA, vitamin C-rich powders such as Galvanic CAMU CAMU to antioxidant-packed berry powders such as Tropical ACAI, Windswept BILBERRY, or Atmospheric BLUEBERRY our range covers a wide spectrum of nutritional benefits.
Natural Flavor Enhancement
Flavor is the heart and soul of any food or beverage product. Our fruit powders offer a burst of natural, authentic fruit flavor to your formulations. Whether you're aiming for the zesty tang of Balanced LEMON, the subtle sweet taste of Blooming TART CHERRY, or the tropical notes ofLunar MANGOSTEEN, our fruit powders are the perfect way to infuse genuine fruit taste into your creations. Say goodbye to artificial flavorings and hello to the real deal.
Vibrant Color Palette of our fruit powders
The visual appeal of your products plays a significant role in attracting consumers. Our fruit powders not only enhance flavor but also bring a vibrant and appealing color palette to your products. From glowing white to dark purple, the rich and natural hues of our fruit powders can make your products visually enticing, which is crucial in a competitive market.
From the rich colors and textures of the powders to the distinctive tastes, each of these beneficial ingredients evokes a force of nature.
Extended Shelf Life
Fruit ingredients can be a challenge due to their perishable nature. Our fruit powders, on the other hand, offer delightful flavors and nutritional benefits without the short limitations of short shelf life. They are perfect for extending the longevity of your products, reducing waste, and making them available to consumers for a longer time.
Formulation Flexibility
Our fruit powders are versatile ingredients that can be incorporated into a wide range of products. From functional drinks to baked goods and frozen treats, the possibilities are endless. Whether you're in R&D, procurement, or marketing, you'll appreciate the flexibility our fruit powders bring to your product offerings.
At Nexira, we offer customized support to help you make the most of our fruit powder range. We can provide you with formulation suggestions for your finished product. Whether used individually or in combination with others, POW(D)ER makes the possibilities for formulators virtually limitless! For example, create an organic beauty from within blend by mixing antioxidant-rich berry powders: Tropcial ACAI –- Windswept BILBERRY – Celestial BLACKCURRANT – Cascading CRANBERRY and Visionary MAQUIBERRY. This delicious blend of berries provides health benefits thanks to all those powerful antioxidants. They help restore a youthful appearance and may slow down premature ageing by fighting off free radicals to help give the skin a healthy glow. Vitamin C promotes the normal formation of collagen, providing elasticity and firmness to the skin.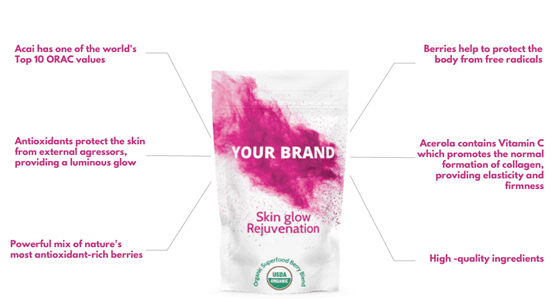 Consumer Appeal
In the expanding nutrition market, perception is key: consumers want to discover other new products than fresh vegetables, and products that contain appealing clean ingredients with powerful benefits known to fuel vitality, health, and well-being. Our experts travel the world sourcing key ingredients of natural origin. Our minimally processed fruit powders are close to nature, and to the raw materials from which they are sourced. They add even more value by enabling the creation of clean-labeled products that have gone from a trend to a "must-have" among health-conscious consumers.
Whether you need formulation guidance, samples, or have specific requirements, our team is here to assist you in every step of the process. Reach out to us today to discover how we can enhance your products with the natural goodness of fruits.
---
This communication is not intended to the final consumer. It provides scientific information for professionals only. Communications to the final consumer have to be checked according to local regulations in force, since the conditions of use are beyond our control. This statement has not been evaluated by the FDA. This product is not intended to diagnose, treat, cure, or prevent any disease