Global leader in natural ingredients, Nexira has introduced a range of superfood powders that harness the power of nature with super nutritional benefits.
What is a superfood?
There is no universal definition as to what constitutes a superfood. When using the descriptive term superfood, it is generally understood to refer to foods that are abundant in nutrients which are considered beneficial to human health. There are several characteristics of a food that can elevate its status to a superfood, including natural origin and nutritional superiority; and generally, there should always be some scientific evidence to support these claims.
Most superfoods found in nature and grown in soil are nutrient-dense plants rich in vitamins, minerals, protein, fiber, healthy fats, antioxidants, and other essential phytonutrients.
Every superfood has unique nutritional qualities, and each one is linked to specific health benefits. These benefits can include enhancing the immune system, supporting energy and vitality, or improving beauty from within.
What is so special about superfoods?
Superfoods are a rapidly growing market in North America. Consumers perceive superfoods as extra-healthy options that will help promote their health in the long term. Wondering what really makes superfoods so special? Here we share the reasons behind the perception, and the supporting facts.
As today's consumers explore alternative approaches to strengthen and boost their health, they are gravitating towards holistic, long-term strategies. Since superfoods possess numerous functional qualities that can help achieve these goals, many people look to incorporate superfood powder into their diets on a daily basis.
The importance and impact of superfoods
According to CDC statistics, average Americans do not eat enough fruits and vegetables each day. Most consume less than two servings of vegetables and just one serving of fruit per day. Adding more foods from these groups can be beneficial, especially if this includes nutrient-dense superfood powders, which in the right amounts, is the key to a balanced diet.
An in-depth survey on food and nutrition published in 2022 "What's Trending in Nutrition" provided valuable insights on the top trending superfoods, based on results compiled from more than eleven hundred RDNs (Registered Dietitian Nutritionists). Published by Pollock Communications and Today's Dietitian, every superfood on this year's list continues the trends from last year's survey, by meeting the criteria of being suitable for a plant-based, budget-friendly diet. The list features some well-known favorites, as well as some trendier options: fermented foods, seeds (chia, hemp, sunflower), blueberries, avocados, nuts, legumes, ginger, turmeric, leafy greens (kale and spinach), cruciferous vegetables, aquatic greens, green tea, ancient grains, and non-dairy milks.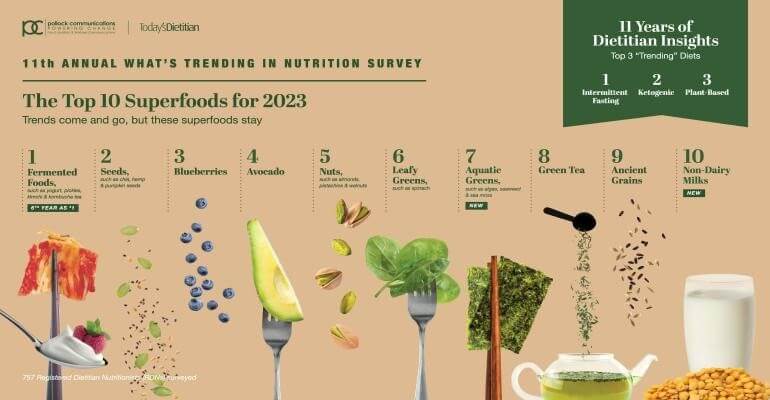 Plant-derived foods like greens, nuts, seeds and fermented foods are what nutrition experts say consumers are shopping for most in 2023.
By mixing and matching superfood powders, which incorporate many of the categories (fruit, seeds, roots, and leaf powders) each of which has a unique nutritional profile, meal plans are expanded well beyond the traditional protein, carbohydrates, and fats. We expect the superfood trends towards health and well-being to continue throughout 2023 and beyond. Consumers say the decisions they make to purchase food and beverages is highly influenced by factors such as accessibility, convenience, affordability, and the perception that their choices will support gut health and immunity. Superfoods that promote gut health and support immune function are becoming more widely affordable and accessible, resulting in increased sales of nutritious foods in this category.
The potential health benefits of superfood powders include boosted energy, enhanced digestive health, reduced stress and anxiety, or improved quality of hair, skin and nails.
The primary drivers for consumers to purchase superfoods and products that contain superfood ingredients include clean-labels, green and organic labels, the honesty and transparency of a brand, natural processing across the supply chain, sustainability, and whether products are allergen-free or gluten-free.
How to use superfood powders
Use nutrient-dense ingredients such as superfood powders to create products with health benefits that matter to consumers.
What types of products are superfood powders used in? Reflecting the core values of consumers, food and beverage manufacturers have implemented initiatives to imbue their products with ethical claims (such as sustainability) and superfood powders that provide health benefits. Whether it's added vitamins and minerals, fiber, or antioxidant properties, the ongoing goal is to enhance healthy nutrition with rich tastes and textures to ensure their appeal to consumers. Superfood powders can be used in many applications, including functional foods and snacks, cereals, beverages, and even baked goods or confectionary. The popularity of superfoods in beverage form is growing fast.
At breakfast, for a pre-or post-workout meal, or merely for the purpose of maintaining a healthy digestive system, functional beverages are quick and easy to prepare with superfood powder.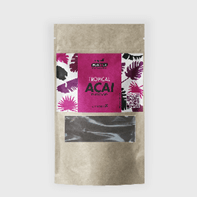 For example, Tropical Acai Fruit Powder provides a plant-based, low sugar, antioxidant-rich superfood that's simple to consume any time of the day.
Superfood powders are a quick and convenient way to include fruits, greens and vegetables in your daily diet. It's easy to add vitamins, nutrients, and minerals to any beverage by using superfood powder ingredients, which mix easily with water, juices, and smoothies. Superfoods also add good taste and rich color to any beverage, making it more appealing to drink.
According to Food Insight, consumers who prioritize well-being are increasingly seeking nutrition in beverages that provides benefits such as improved mental clarity, boosted energy, and gut health support. Superfood powders mixed into beverages can fulfill consumers' dietary needs, such as adding vitamins and minerals, while being carb-free and cholesterol-free. Beyond general health benefits, superfoods possess desirable properties and can be specifically used for cleansing and detox, such as the Dewy Alfalfa Juice Powder, which freshens and cleanses the body, like grass wet with dew. Alfalfa is well-known to be loaded with chlorophyll, the source of all plant energy, and for its easy digestibility. It's commonly used as a daily cleanse. Give your body a spring cleaning with our simple, healthy, and delicious Green Smoothie. This delicious detox drink gets its vibrant color from Dewy ALFALFA and Harmonious MATCHA powders; it's very easy to make, it's nutritious, and it tastes amazing!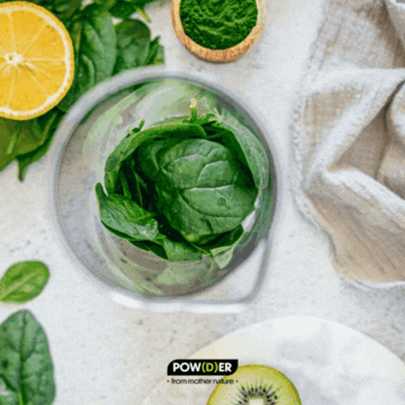 The aspirational virtue of healthy snacking is now much easier to achieve due to the availability of high-quality, nutrient-dense snacks. Superfoods such as vegetables, fruits, and nuts are the perfect blends to help you fuel up between meals and keep your body's energy levels boosted. Consistent healthy snacking helps avoid hunger pangs, which are notorious for leading to poor eating habits. According to Mintel, when comparing snacking frequency between the U.S. and Canada, 34% of the American adults (18+) said they indulged in a snack twice a day, with 16% admitting to snacking as much as three times a day. In a survey that asked what qualities were looked for in a snack, both the Americans and the Canadians overwhelmingly (nearly two-thirds) chose tasty as the number one attribute they desired in a snack. The second and third-place ranks belonged to 'fresh' and 'high-quality ingredients'.
It's easy to create tasty nutrient-dense superfood snacks, such as Creamy Chickpea Hummus made with Dewy Alfalfa Juice Powder or a vibrant, refreshing lemonade using Volcanic Dragonfruit Freeze-Dried Powder. POW(D)ER offers many powerful superfood ingredients which are perfect for infusing bold flavors and rich colors into favorites such as smoothie bowls, yogurts, juices, and other functional foods and beverages. Easy-to-use superfood powder is a way of immediately making any food more nutrient-dense. For a little taste of paradise, try an exotic Pina Colada superfood blend recipe made with Primeval Pineapple Juice Powder, Wavy Coconut Water Freeze-Dried Powder, and Sunny Acerola Juice Powder with 17% Vitamin C. Savor a delicious warm Golden Latte brewed with Flowing Goji Fruit Powder or fill a late-night craving with a soft, yummy Chia Pudding made with Galvanic Camu Camu Fruit Powder, with 8% Vitamin C.

The POW(D)ER range encapsulates the culmination of Nexira's research and discoveries regarding the unique natural properties of superfoods, including antioxidant qualities; for those looking to supplement their meals the nutrient-dense superfood powders contain many vitamins and minerals. All of the top superfoods featured in the survey "What's Trending In Nutrition" are available, including Seed Powders such as Timeless Quinoa and Stratospheric Hemp, and Fruit Powders like Atmospheric Blueberry and Cascading Cranberry. Greens are represented by Harmonious Matcha Leaf Powder and Dewy Alfalfa Juice Powder. These powders are easy to mix into cereals, beverages, yogurts, and more, resulting in a simple way for consumers to reap the benefits provided by the unique traditional properties of each superfood.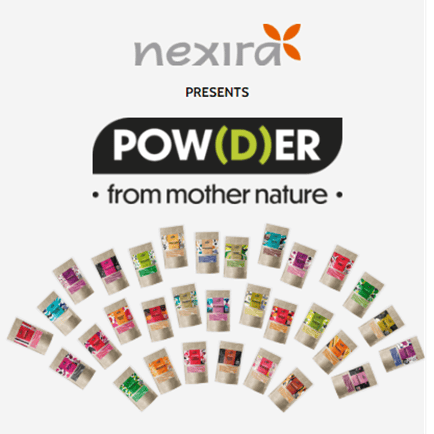 Pair superfood powder with micronutrients to deliver products with health benefits that are important to consumers:
Consuming a variety of superfoods can help to create an optimal nutrient-dense diet geared towards an individual's desired health benefits or fitness goals. It's useful to understand the various properties and benefits of each superfood powder in order to create a balanced diet that focuses on specific issues as needed, through a blend targeted towards your consumers. Follow the guide to create SuperBlends that will deliver high-quality, tasty products with maximum benefits.
Superfoods for a super gut
The foods we consume give us much more than simple nutrition. The stomach contains microbes called gut flora, which promote proper digestion. Superfood powder mixed into yogurt, acai bowls, and beverages can help support and maintain a healthy digestive system by nourishing the gut flora.
According to Vitafood Insights, 91% of U.S. consumers agree to the importance of maintaining their digestive health and 23% report that they have researched ways to improve their gut health. There is a strong focus on cleansing and detoxification, both of which are helped by the addition of high-fiber superfoods and superfood blends.
While ingredients like fiber and biotics are commonly associated with digestive health, a number of botanical ingredients have long been linked to digestive health by traditional medicine. For example, Turmeric has a long history of association with a healthy gut; according to a Mintel Study (Mintel GNPD January 2018- December 2022), 8% of VS launches with a digestive health claim contained Turmeric. Take a look at our Golden TURMERIC root powder for more nutritious benefits. Our Radiant PRICKLY PEAR Juice Powder is well-known to be a good source of dietary fiber, and it may help to improve digestion.
Gut-microbiome-nurturing superfood can complement gut health launches, such as those focusing on probiotics or prebiotics.
Superfoods support immunity
According to a Mintel study, when Americans and Canadians are conducting a search for "health benefits" the keywords "strengthen my immune health" is their number two priority, second only to "help maintain a healthy heart".
It's essential to maintain a diet high in vitamins and minerals to help fuel the body and promote a strong immune system, especially as we age. Superfood blends are abundant in antioxidants, fiber, vitamins, minerals and more – all necessary to help provide support to your immune system. Following the pandemic, boosting immunity is more significant than ever to consumers, who are seeking nutrient-dense foods to help accomplish this purpose. It's simple to add superfood powder to your beverage or bowl to increase its nutritional value immediately. One in three say they've recently purchased food or beverages that they believe will help boost their immunity, and often these include superfood ingredients. Many more are looking for foods such as superfood blends that will have a positive impact on their broader health, according to a recent report from Vitafood Insights.
For a high nutrient dense immunity blend, you can make a specific South American one by mixing Sunny ACEROLA Juice Powder, with Galvanic CAMU CAMU Powder. The tiny antioxidant-rich berries are considered the Peruvian Amazon superfood, helping to galvanize the immune system and aiding the body's overall vitality. Add a bit of Balanced LEMON Juice Powder for a tart, zesty taste, and benefit from its naturally occurring vitamin C, which may help boost the body's immune system.
The beautiful side of superfoods
Many consumers are increasingly viewing their health holistically, and want to both feel and look healthy. Products such as beauty blends formulated with shorter ingredient lists are preferable – and the ingredients the consumers want to see are more appealing when they contain words such as natural, organic, and sustainable. The importance of physical wellness is wrapped up with the desire to age healthily, and to that end, many seek to increase their intake of superfoods, full of healthy nutrients. Superfoods can help improve the quality and appearance of hair, skin, and nails – beauty from the inside out!
The desire of consumers to achieve overall wellness through nutrition is creating new opportunities for nutrient-dense products with functional health benefits. The consumption of superfood powder can, for example, help boost immunity, enhance gut health, and promote beauty from within. Ingredients such plant protein powder as those featured in the POW(D)ER range can make it easy to maintain optimal nutrition for mind and body – and good health is, after all, our greatest asset.