Nexira shares insights from Cynthia Pierini, a food stylist with a passion for creating recipes using superfoods, and photographing the colorful results.
A few words about Cynthia Pierini
Based in the south of France, Cynthia Pierini is a food stylist and photographer, as well as a food research & development consultant. Her photographs are colorful, bright, and gourmet, communicating emotion, childhood memories, and moments of enjoyment. For collaborations with clients, she tells us, "I adapt to their needs and create the ambiance according to their brand image." For the Powder Project, she was asked to create 12 recipes using superfoods. These recipes were all mixed, stirred, or baked by Cynthia herself – she then styled the finished foods and beverages, and beautifully photographed them all. Looking at the images photographed by Cynthia, it's easy to see that she has accomplished her goal, while inspiring others to create delicious recipes.
What are superfoods used for?
Nexira launched its new POW(D)ER range of superfood powders in North America at
the end of 2022. For the Powder Project, Cynthia created and prepared twelve delicious gourmet healthy meal recipes, either using a single superfood – or a combination of two or more superfood powders.
Every superfood has unique nutritional qualities, and each one is linked to identifiable health benefits. These benefits can include enhancing the body and immune system, supporting energy and vitality, or improving beauty from within. Making recipes using superfoods is a good way to eat healthier every day, while still enjoying delicious tastes and textures.
Nexira provided a list of recipe applications to develop for each ingredient or combination of superfood powders, such as smoothies, juices, or even cocktails. After thoughtful research on tastes and food trends in the U.S., Cynthia shared the recipes using superfoods with Nexira, using a moodboard to present her culinary intentions. She describes the start of the recipe development process. "After validating the choice of recipe, I go into formulation and testing in my kitchen, to establish the precise quantities adapted for each ingredient to obtain the best organoleptic (taste, texture, color, and smell) aspects."
What can I mix with superfood powder?
Superfood powders are easy to incorporate into a daily diet, adding nutrition, flavor, and color to many dishes. Very often, creating recipes using superfoods is a practical and simple way to infuse protein and fiber into your diet – superfoods are a fantastic source of both! They can easily be mixed into many types of meals: a breakfast bowl, dinner, lunchtime healthy salad, yogurts, sweet puddings, and other desserts. Another great way to get vitamins and nutrition from superfoods is to mix the powders into beverages, such as juices, smoothies, and shakes, and just drink them down throughout the day.
The approach Cynthia took as she created the recipes using superfoods was adding fresh fruits and vegetables and limiting the amount of added sugar. The "mostly vegan" homemade recipes were partly inspired by her research on tastes and food trends in the U.S., and she then adapted the quantities of each ingredient to U.S. measurements. Once the recipes using superfoods were prepared, Cynthia photographed them in a colorful atmosphere, integrating the value of each ingredient as it related to the design of the dish and the packaging. Looking at the images of the foods she prepared can be inspirational to anyone who wants to recreate these recipes using superfoods which are published on our website. Or learn more about the powder ingredients, and create your own healthy, delicious recipes using superfoods.
Your Superfood Recipes: Discover Her Selection
"To highlight the delicacy of a recipe, it is necessary to first ask yourself a few questions about its characteristics, and particularly about the emotion that you want to convey through photography." Cynthia provided a solid example of this as she described the Pina Colada cocktail developed for the Powder Project, which was based on Wavy Coconut Water freeze-dried powder, Primeval Pineapple juice powder, and Sunny Acerola juice powder. "I added the fruits that make up this cocktail to identify its flavors, but above all to provide texture and volume. These fruits always add appreciable touches of color. And because it's a recipe that calls for a tropical vacation vibe, I chose to use hard light that helps add relief, with strong shadows like palm branches in the background."
When asked if she encountered any difficulties with the project, Cynthia shared an anecdote about a particularly complex recipe using superfoods for gluten-free vegan pancakes based on quinoa powder, baobab pulp, and nopal leaves. "Initially, the idea was to make it with 100% quinoa powder to replace standard flour. After several tests, the results were not at all satisfactory both in terms of texture and taste. So I considered reformulating it to a vegetarian base which would allow me to put eggs in as well, and I also combined the quinoa powder with another gluten-free flour. After 7 tests in the kitchen, the recipe was completed to bring total satisfaction: a pancake with a soft texture, a good taste of quinoa without being too marked, and a gourmet appearance to be photographed afterwards." In the end, Cynthia stated that this was a rewarding challenge which enabled her to deepen her knowledge of formulating recipes using superfoods – and she knew that she absolutely wanted to succeed.
She shared her favorite ingredients and recipes from the POW(D)ER range. Cynthia particularly liked the fruit powders, such as Blueberry, Dragon Fruit, and MaquiBerry, especially for their colors, though she is quick to point out that they are also very rich and tasty. "They allow a wow effect on the visuals!"
One of the advantages of using superfood powders in recipes is being allowed to discover new flavors and nutrients, which is very important in Cynthia's field. Some fruits can be difficult to find on supermarket shelves; superfood powders make it easy to implement in various culinary applications. "You can express your creativity!" she says.
Favorite sweet recipes using superfoods include the Chia Pudding made from Camu Camu fruit powder, Coconut, mango, and passion fruit. "It's an ultra-gourmet mix and a very interesting texture provided by the chia seeds." Cynthia equally enjoyed the delicious chocolate mousse made from quinoa and maca powders, which had a light hazelnut flavor (from the maca), that sublimates the dark chocolate in taste, making it a favorite combination. Both the Chia Pudding and the Chocolate Mousse are great snacks for people who crave sweets, but want to stay healthy. The Pina Colada she mentioned earlier is another favorite recipe. "Only with powders can we find the true taste of this cocktail," says Cynthia.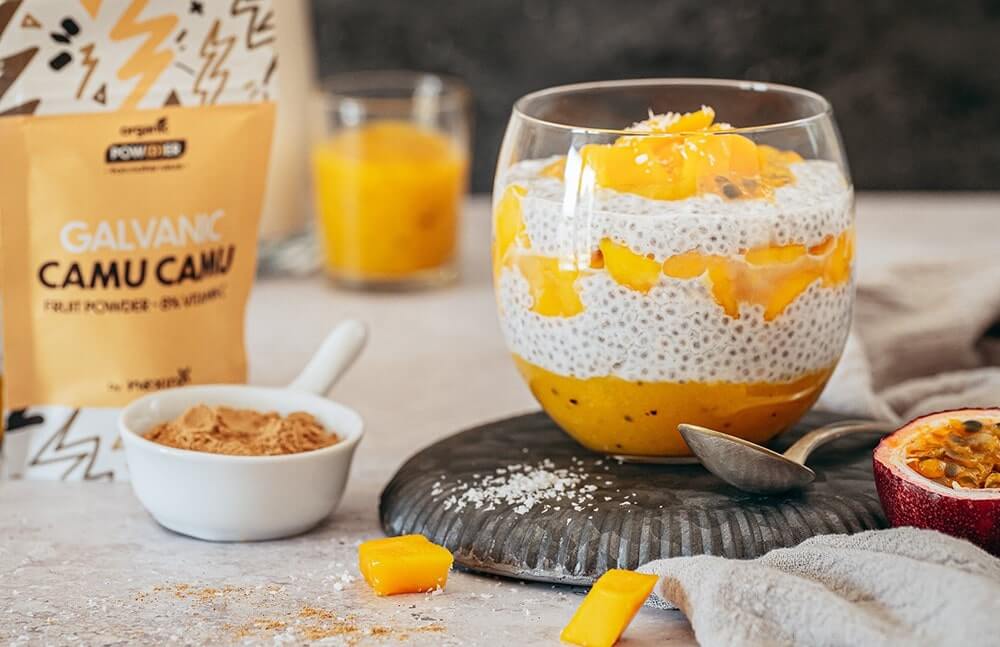 Chia Pudding with Camu Camu Fruit Powder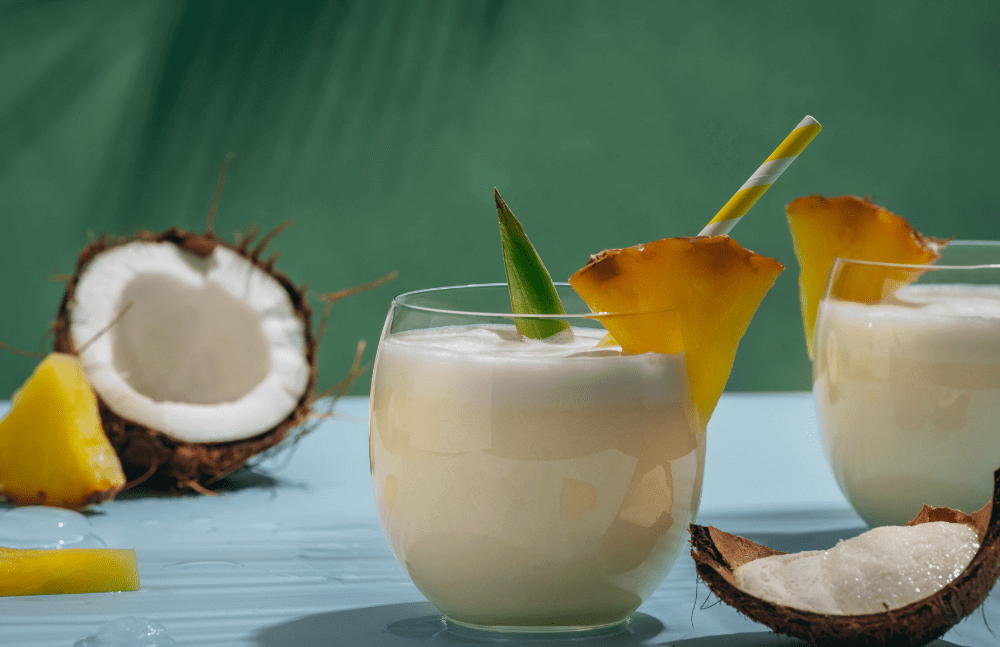 Pina Colada: Coconut, Pineapple & Acerola
Cynthia went on to discuss her own relationship with superfoods, and working with recipes using superfoods. She had the opportunity to work with superfoods such as kale, blueberry, coconut and quinoa back when she coordinated R&D projects to develop recipes for baby food. Cynthia believes that recipes using superfoods as the main ingredients have more nutritional interest than traditional ingredients, and a more important connotation since they provide health benefits when consumed in a balanced diet.
When asked about her personal take on superfoods, Cynthia replies that she does integrate superfoods into her diet, even when she is not busy formulating recipes to cook for using superfoods. "I consume superfoods from time to time, mainly in the form of fresh fruit or food supplements."
Cynthia Pierini was trained as an aromatist and first worked as an R&D project manager before taking on the role of service manager at a food company in Normandy. Along with the team she managed at that time, Cynthia coordinated projects to develop conventional and baby food recipes. She shared that her passion for photography started when she was young, and aspired to be a professional photographer. Nevertheless, after enrolling in a course to study taste, ingredients, food products and manufacturing processes, Cynthia put photography to the side in favor of her scientific career in research and development. At the end of 2020, she made a decision. "I needed to reorient my professional career. I started my own business as an agri-food R&D consultant. However, I had not yet fully aligned my passions of baking, cooking, and photography with my values and my expertise in research and development." After consulting with a coach, she added photography back into the mix, and was thus trained in styling and food photography, where she now happily remains.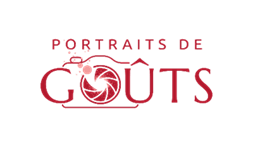 She created Portraits de Goûts in 2022 with the aim of showcasing the ingredients and products of food companies through two lenses: the formulation and/or the creation of recipes and photographs that capture the delicious and colorful results of her efforts. Cynthia notes that the objective of her work is to serve to "bring indulgence and authenticity in professional visuals to attract customers and make their mouths water." She likes to add a floral touch to the composition of the staging to bring freshness to the images in an even more creative way.